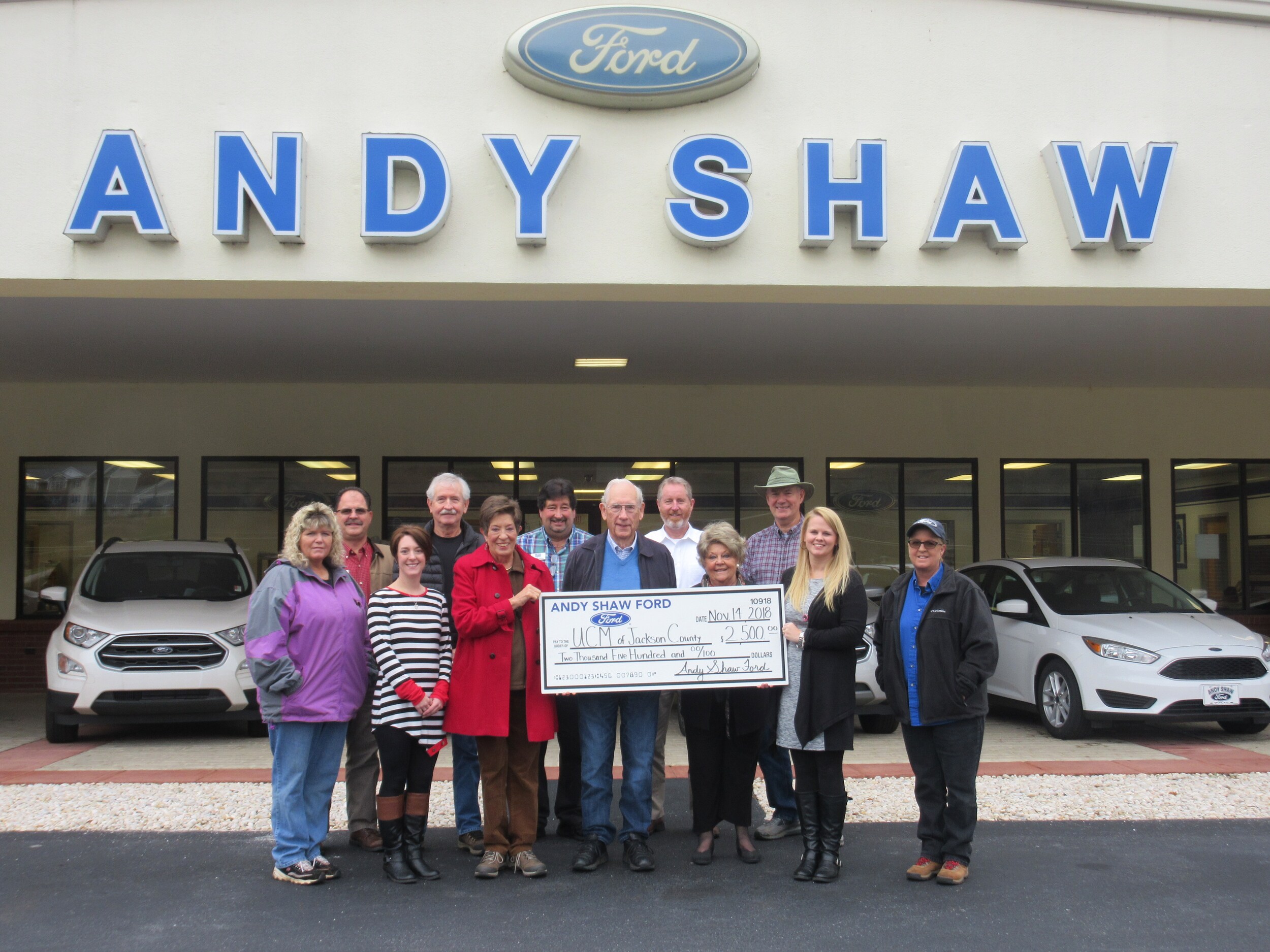 For the first time in Jackson County, Andy Shaw Ford hosted a "Drive 4UR Community" event for United Christian Ministries which was held on Saturday, September 22, 2018 in Sylva, NC. On Wednesday, November 14, 2018, team members from Andy Shaw Ford presented a check for $2,500 to UCM Board Members: Blair Yount, Cindy Parker, John Bell, Tom Tabor, and Virginia Milligan. Proceeds from the drive event will go towards the mission of UCM of Jackson County to support individuals living in Webster, Sylva, Dillsboro, Cashiers, Glenville, Cullowhee, Balsam, and Whittier.
United Christian Ministries has been serving Sylva and other areas in Jackson County for over 25 years. They help the community by providing food, household goods, financial assistance, and personal care items to individuals of all ages. UCM's passion is to serve Christ by aiding people in need of physical, emotional, and spiritual support.
The popular program sponsored by Andy Shaw Ford, new and used car dealership in Sylva, and the Ford Motor Company has raised more than 35 million to high schools and community organizations since its inception in 2007. The Drive Program is a competitive one, which only 300 dealers out of nearly 3000 are chosen to participate in each cycle. Andy Shaw Ford has been fortunate enough to participate in the program since 2010 and sponsored the Community Table of Jackson County, Jackson County Early College, Smoky Mountain High School, and now United Christian Ministries.
"This is a great program that allows us to have a direct impact on members of our community that are in need or necessities," said Larry Hinton, President and General Manager at Andy Shaw Ford, "With this check we will have delivered nearly $70,000 to various organizations and schools in our community since 2010."