Come join us on Friday, April 26 from 3:30-6PM as we raise awareness for kid safety and have fun while doing so! The Jackson County Department of Public Health has teamed up with Andy Shaw Ford this year for the annual Safe Kids Day and this year's event will be held at the Ford dealership located in Sylva across the street from Wal-Mart. Free food and drinks will be provided along with free face-painting and kid's crafts. The Health Department will be offering car seat checks and give a demonstration on proper car seat installation. Oh yeah, don't forget about the special visit with Sparky the Dog!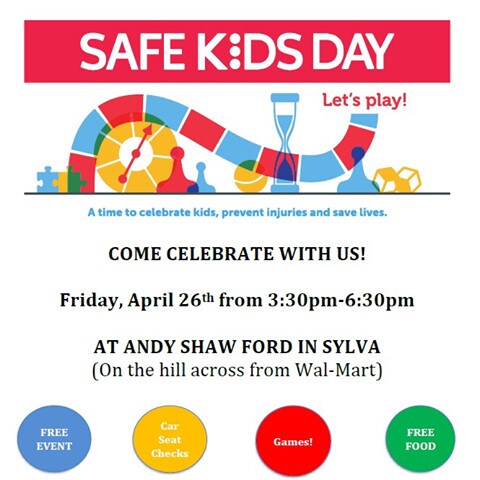 The Safe Kids Program of Jackson County was developed in 2013 by the Jackson County Department of Public Health. The mission of the Safe Kids Program is to reduce the number of accidental injury and death of children across our region. By working alongside of schools, community groups, and local businesses, Safe Kids of Jackson County is able to raise awareness and prevent child injury.
Andy Shaw Ford is so excited to be a part of the event this year. We are aware that the number one cause of accidental child death is transportation accidents including both occupants inside a vehicle and pedestrian accidents. Having the opportunity to use vehicles for examples using car seats, hot vehicle displays, and general vehicle safety for children, is a great way for Safe Kids of Jackson County to make parents alert about injury prevention.