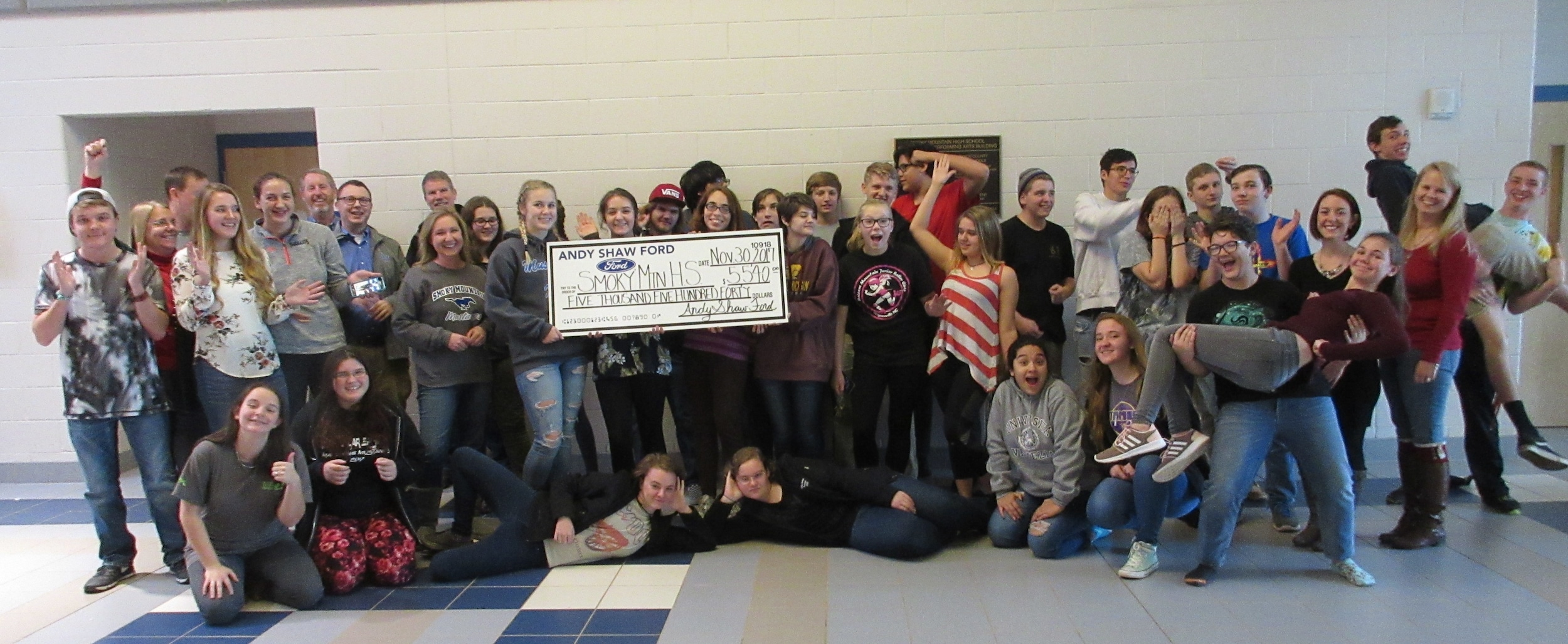 The "Drive 4 UR School" Program once again visited Jackson County on September 29th, 2017. The popular program sponsored by Andy Shaw Ford of Sylva and the Ford Motor Company provides much needed funding for local high schools and other organizations within the community. On Wednesday December 20, 2017, team members from Andy Shaw Ford presented a check for $5,540 to Jake Buchanan, Principal of Smoky Mountain High School, and members of the student body. Proceeds from this year's event will be used by the Choral, Band, and Visual Arts Programs at the High School.
"This is a great program that allows us to have a direct impact on secondary education and nonprofit organizations in our community." said Larry Hinton, President and General Manager of Andy Shaw Ford. "With this check we will have delivered nearly $70,000 to our community since 2010," he added. Principal Jake Buchanan echoed Hinton's remarks when he said, "We certainly appreciate all that Andy Shaw Ford and the Ford Motor Company have done for Smoky Mountain High School and our community. We were glad to partner with them for the Drive 4 UR event and are grateful for the much need money they have brought to help education in our community."
Ford Motor company started the Drive 4 UR program in 2007 and will have donated over 35 million to high schools and community organizations by the end of 2017. It is a competitive program in which only 300 dealers out of nearly 3000 are chosen to participate in each cycle and Andy Shaw Ford has been fortunate enough to participate in the program since 2010.
Andy Shaw Ford appreciates the community's support in helping raise money for this great cause!
For additional information contact Andy Shaw Ford at 586-0900 or visit www.andyshawford.com.
https://www.facebook.com/AndyShawFord
https://plus.google.com/u/0/b/112406740288794774684/112406740288794774684