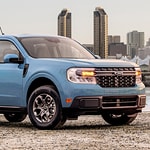 If you are in the market for a new car, you may be considering purchasing a Ford Maverick. This vehicle is known for its excellent technology features, which set it apart from the competition. In this blog post, we will discuss some of the best Ford Maverick technology features.
- Ford's SYNC® system is an industry-leading infotainment system that allows drivers to control their music, navigation, and phone calls with voice commands.

- The Ford Maverick also features a rearview camera, which is standard on all models. This safety feature helps drivers see what is behind them when backing up.

- Another great safety feature of the Ford Maverick is the Blind Spot Information System (BLIS®). This system uses sensors to detect when another vehicle is in your blind spot and alerts you with a warning light on your mirror.

- The Ford Maverick comes standard with front and rear disc brakes. These brakes provide excellent stopping power, which is important for safety.

- The Ford Maverick is also available with a variety of optional features, such as heated seats and a sunroof. These features add to the already excellent list of standard features.