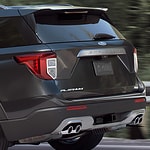 The Ford Explorer is a roomy vehicle that provides plenty of legroom for drivers and passengers. The inside of the Ford Explorer 4×4 has plenty of room for all of your gear, whether you're going fishing or camping.
A voice-activated navigation system delivers directions, and traffic updates and tells you where you are at any given moment. You can take your favorite tunes with you everywhere you go with this system.
Additionally, the B&O® stereo system with satellite radio in the Ford Explorer SUV is unmatched by any other vehicle in its class. The driver and passengers will have a great time, thanks to the high-quality sound system. The speakers are set so that the entire car's interior is filled with a rich, immersive sound. Due to the inclusion of these cutting-edge design elements, the Ford Explorer is an excellent choice for die-hard Ford enthusiasts.